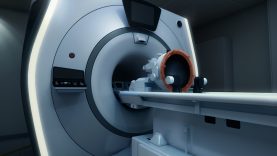 HAIFA, Israel and MIAMI, Florida – INSIGHTEC®, a global medical technology innovator of incisionless surgery, today announced that the U.S. Food and Drug Administration (FDA) has approved Exablate Neuro™ compatibility for the state-of-the-art MRI Scanners Magnetom Skyra, Prisma and Prismafit from Siemens Healthineers to treat patients  with essential tremor (ET).
"This important milestone is directly attributed to the commitment and collaboration of the teams at INSIGHTEC and Siemens Healthineers, who met the challenge head-on," said Maurice R. Ferré, MD, INSIGHTEC Chief Executive Officer and Chairman of the Board. "Expansion of MRI compatibility for Exablate Neuro substantially increases the potential reach of incisionless brain surgery for essential tremor patients."
Exablate Neuro uses focused ultrasound to precisely target and accurately ablate tissue deep within the brain with no incisions. More than 1,500 medication-refractory essential tremor patients have been treated around the globe.

"With the compatibility of INSIGHTEC's innovative technology with our MRI scanners, Siemens Healthineers is staying true to its mission of delivering best-in-class diagnostic imaging with advanced therapy solutions in the neurological space," said Christoph Zindel, MD, Senior Vice President and General Manager Magnetic Resonance at Siemens Healthineers. "This joint development underlines our commitment to expanding precision medicine, and paving the way for offering focused ultrasound to more hospitals and patients in our worldwide network."
"Focused ultrasound is an exciting technology, through which radiology and neurosurgery expand efforts together to advance best patient care," said Satoshi Minoshima, M.D., Ph.D., Professor and Chair in the Department of Radiology and Imaging Sciences at the University of Utah, where the Exablate is currently being installed on a Magnetom Skyra from Siemens Healthineers. "The expansion of Exablate Neuro to be compatible with Siemens Healthineers MRIs will broaden access for patients to an incisionless treatment option."
Exablate Neuro is FDA approved to treat medication-refractory essential tremor and clinical trials are ongoing to evaluate potential applications in the treatment of various neurological diseases.
For further information on INSIGHTEC, please see www.insightec.com