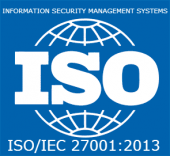 Emico Medika has successfully passed an extensive audit to confirm that the implementation of the information security management system in the company complies with the requirements of ISO 27001: 2013.
The audit included conducting interviews with managers of all departments and key employees of the company and obtaining evidence. We pay great attention to information security and the protection of customer data, as often our specialists have direct access to research. And so that these allegations were not unfounded, Emico Medika regularly undergo an assessment of outside experts to confirm compliance with international standards. And now including the information security standard ISO 27001: 2013.
As part of the verification of compliance with the requirements of ISO 27001: 2013, Emico Medika has examined such aspects of information security as:
protection against unauthorized access (NSD) to systems, including internal
protection against NSD employees of the organization;
authorization and authentication;
protection of data transmission channels, ensuring integrity;
ensuring the relevance of data in the exchange of information with customers;
electronic document management;
IS incident management
business continuity management;
internal and external audit of the information security system;
other.What is the standard ISO 27001: 2013 and why is it needed?
The ISO 27001: 2013 standard reflects best practices in information security management. It is designed to identify and eliminate potential threats to information. Compliance with this standard indicates that organizations can safely entrust the storage of information.
The main standards of ISO 27001: 2013:
Information confidentiality – protection from unauthorized access;
Compatibility of information – preventing unwanted information conversion;
Accessibility of information – ensuring convenient access of interested persons to information and services.The presence of ISO 27001: 2013 guarantees:
The continuity and efficiency of the company
Trust of customers and business partners
Compliance with regulations and laws